If you have been selling at the online marketplace, then chances are that you might have come across the term – Amazon freight forwarders.

Importing & exporting are vital elements for any lucrative business. Though international shipping presents bigger business opportunities, it is also daunting at the same time.
The paperwork, regulations, and huge processes involved in global trade might seem intimidating.
Shipping abroad calls for two things – complexity & excess work.
Yes, you can expand internally, but this needs bigger investments in logistics, finding the right skill set(s), and technology licenses to ensure that everything runs smoothly.
The investment to build or expand a logistics team for a company is undesirable, and the cost can turn out to be very high.
But you can still be a fruitful international shipper without being stuck with logistics. That's where a freight forwarder comes in handy.
Before we get into detail about it, let's begin this blog with a quick introduction about freight forwarding and when & why do you need one.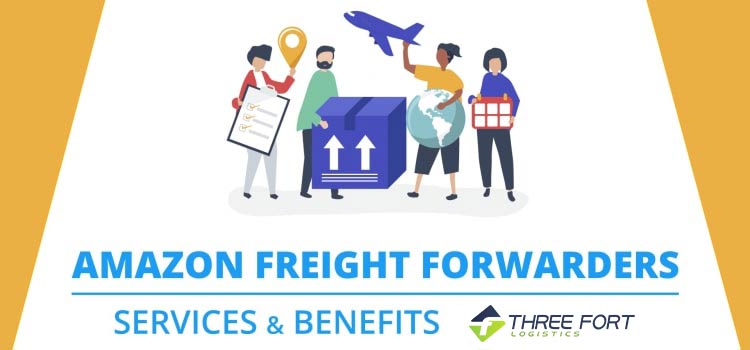 Quick Guide:

A freight forwarder, forwarding agent, or a forwarder, also known as NVOCC (Non-Vessel Operating Common Carrier), is a company or a person that helps in organizing shipments for corporations or individuals to get goods from the manufacturers or producers to a final distribution point (can be a customer's destination or a market). – Source
So, freight forwarders are usually firms that specialize in organizing storage & shipping for merchandisers on behalf of their shippers. They provide a wide range of services like:
• Preparation of shipping & export documents
• Tracking inland transportations
• Booking cargo spaces
• Warehousing
• Freight consolidation
• Negotiating the freight charges
• Cargo insurance
• Filing the insurance claims
A freight forwarder usually ships under its own lading bills or air waybills (also known as house lading bill or house air waybill). The associates or agents at the destination provide deconsolidation, freight collection, and document delivery services.
In simple words, a freight forwarder is a firm or a company, which organizes your importing & exporting of goods.
Using a good freight forwarder for importing and exporting your goods can make the entire process less stressful. Since they are highly knowledgeable in the supply chain domain, freight forwarders help in all levels- right from packing to warehouse and customs procedure.
A freight forwarder serves as an intermediate between the shipper and the distribution point. While a freight forwarder doesn't really move the freight itself, they help in arranging or organizing different transportation services like:
• Road transport
• Ocean shipping for cargo ships
• Expedited shipping via air freight
Freight forwarders have established relationships with different carriers, from trucking companies, ocean liners to air freighters, for negotiating the best price to move the shippers' goods via trade routes.
They work around several bids and choose the ideal path, which optimizes cost, reliability, and speed.
They usually handle plenty of logistics to ship goods from one intercontinental destination to the other.
To adhere to the shipping requirements and export documentation, many exporters use freight forwarders to serve as their shipping agents. The forwarders advise and assist customers on how to ship their goods efficiently from one destination to the other.
The broad knowledge of the forwarders on regulations, documentation requirements, banking practices, and transportation costs help ease the process of exporting for many companies.
Freight forwarders play a key role in freight transportation. They advise customers about the important aspects of the supply chain.
The key services that freight forwarders provide are:
• Tracking the transportation
• Ensuring that the cargo picks up and drops on the scheduled time
• Negotiating the freight charges
• Getting the shipping & exports documents ready
• Booking the warehouse
• Carrying out the cargo insurance
• Collecting the freights
They also take care of:
• Custom clearance
• Custom documentation
• Custom insurance
Further, they help with the carrier documentation, lading bills, warehousing, and payment modes.
One of the best things about a freight forwarding service is that they can save your time and energy by offering reliable transportation of your goods for reasonable rates.
Any company that deals in international transportation consider a freight forwarder as an important asset. Its services are particularly useful when your in-house resources aren't well-versed in international shipping processes.
Luckily, an international freight forwarder helps in maximizing your e-commerce business, predominantly by providing logistics department for your supply chain. Besides helping you to save time and money, they are also the best investment.
Dealing with the transport carriers directly is great when for in-city or in-state deliveries. But the case isn't the same when you are dealing with international trading & transport.
Hence, picking a firm that gives different freight-forwarding services can be a big advantage. A freight forwarder offers paperwork, advice, and the guidance required to get your shipments delivered to the destination.
Let's see what the other benefits of using freight forwarders are:
1. Cost-effective
One of the best benefits of using freight forwarders is that they give competitive costs depending on the services a business needs.
They can even lower the prices by making special arrangements with other companies, which need goods to be sent through the same transport service and to the same terminus.
The freight forwarders do this by evaluating the company's goods and further, consolidating them with the shipments of other businesses in order to develop transport idea that can handle both in a single load. This strategy also cuts down the freight charges.
In addition, cargo transportation rates tend to change, mostly on everyday basis, and this is especially the case when you are dealing with ocean transport. Unlike carriers that tie you up with a contract, a freight forwarder offers real-time rates for your shipments.
2. Good knowledge about the customs
Freight forwarders have a good amount of expertise and knowledge on importing and exporting goods via customs services.
They have the most updated information about the customs rules of several other countries, helping you take care of all the obligatory paperwork, tariff payments, and handling other taxes.
When all these are taken care of, it prevents a business's goods from being stuck in the dock. So, there are no more struggles in filing unfamiliar paperwork.
3. Better control
Freight forwarders usually specialize in any one service area, either market or transportation mode. This enables a business to select how many services should a freight forwarder handle, giving them more control over how shipments can be handled.
By knowing the company's product type, the freight forwarders will have a clear knowledge with whom the transport can be booked, what the suitable routes can be, and which shipping service can do its best job forward.
This ensures that the company's goods reach its destination at the allotted time in the same condition when it initially left the warehouse.
4. Offers special services
One of the best advantages of a freight forwarder is that it can offer trade-related services to a company.
Such services are designed to handle all the:
• Documentation needed for shipments,
• Bill of lading
• Bank papers for releasing the payment
Also, a freight forwarder can offer insurance services for all the shipped products.
When it comes to freight forwarder charges, there are multiple factors to look into. Since various elements go into shipping, calculating the actual cost of any freight forwarding service is not straightforward.
You will also come across a few freight forwarders that include certain charges in their upfront quotation whereas others give them as optional add-ons. In certain cases, a freight forwarder may not give a specific service at all, leaving those arrangements to be done from your cost.
Hence, it is vital to get a complete breakdown of what is included in the quote before engaging with the freight forwarder's service.
Keep in mind that a renowned freight forwarder won't have any issue in providing you the detailed breakup. This will also help you to make comparisons with other quotes.
Here is a breakdown of various shipping elements that are to be paid. Now, whether they are included in a particular quote or not is something you should confirm with the forwarder you choose.
1. Carrier Cost
Whether you want to have your freights shipped by sea, road, or air, the transportation mode has to be paid for. Generally, sea freights are the cheapest whereas the air freights are the costliest.
You might think that the total distance traveled affects the cost – though it may not be the case. It is not necessary that a bigger distance equals a bigger expense.
Moreover, freight forwarders can always negotiate for low carrier charges on popular routes.
2. Container Cost
While shipping through the sea, you will be charged in one of these two ways:
• FCL – Full Container Load
• LCL – Less than Container Load
Going with LCL might be cheaper, especially when you do not have many goods to occupy a container, which means that you will be sharing the container with other companies' shipments.
In this case, there will be a cost involved while separating the shipments on the destination point. Likewise, with air freights, your shipments will be packed into ULD (Unit Load Device), which can either be in the form of a container or a pallet.
Also Read: What Is LTL Shipping?
3. Cargo Type
Certain cargo types cost higher to ship when compared to others. Now, this might be because they need one-of-a-kind container to ship those goods. It could be because they are perishable items, dangerous goods, or things that require careful handling.
Goods that do not fit into standard containers or that require any specialist equipment (like a crane) to load and unload will be costly to ship.
4. Cargo Volume & Weight
The cargo's weight and size can together impact the overall shipping cost. A shipment's chargeable weight is estimated by converting the total volume into weight equivalent.
So, the chargeable weight will be the one that is greater, it could be either:
• The computed volumetric weight, or
• The actual weight
There might be times when two shipments can have the same weight. In such cases, the one that occupies excess space costs higher to ship.
5. Packaging & Palletization
While importing & exporting, the goods need to be palletized as well as packed in a particular way for safety. Also, the wood used for packaging is subject to the international legislation.
Remember that a few freight forwarders charge additionally for packaging. This is because the shipments need to be packed with special things. This also ensures that your goods adhere to the government rules applicable at the terminus. Oh, you definitely don't want your goods to be returned to the origin port for re-packing, as this can be too costly!
6. Insurance
Leaving your goods uninsured can be vulnerable. Therefore, it is important to protect your shipments with cargo insurance. This facility is something that most freight forwarders will offer as an add-on service.
Before you opt for the service, ask the forwarder if the insurance is incorporated in the quotation or it is available only as an add-on.
However, if the forwarder does not offer cargo insurance, you will have to buy it from a broker or an insurer directly.
7. Documentation Cost
Freight forwarders will typically complete the necessary documentation, like import & export paperwork, Bill of Lading, and invoice for you with ease.
However, an admin cost for this service will be usually included in the upfront estimate. Goods that need special paperwork, like restricted or dangerous items, will incur an extra charge.
8. Destination Cost
When it comes to destination costs, there are multiple aspects involved in the process. This includes:
• Terminal handling charges
• Charges to clear the goods from the loading & discharge ports
In addition, a port might also levy an extra security surcharge. Besides these, other possible destination costs comprise of:
• Warehousing fees
• Unpacking (the cost to split the LCL shipments)
• Inland haulage cost (if required)
9. Administration Cost
Undeniably, using the freight forwarder services will save you time and the hassles involved in coordinating, organizing, and managing various elements of the shipping process. However, the forwarder does not execute this job for free. There will be an administration fee, which will be a part of the quote. And this is something you must pay attention to.
10. Additional Surcharges
A carrier can apply a fuel surcharge to protect themselves from variations in the fuel costs – which is also known as BAF (Bunker Adjustment Factor).
Besides BAF, it can also charge something called CAF (Currency Adjustment Factor) to guard them from:
• Currency fluctuations
• War risk surcharges
• Security surcharges
• Peak season surcharges
• Demurrage penalty (if there is a delay in loading/unloading)
11. Additional Services
A few freight forwarders provide extra services to handle the entire shipping process from one end to the other – from product sourcing, packaging to unpacking, organizing, warehousing, distributing, and delivering them to the right customers.
When you compare the quotes of different freight forwarders, it is vital to understand what exactly is included in the estimate so that you can know which quote offers the best value for money.
Read more
Tell us what you are worried about shipping from China to Amazon FBA warehouse. We know which is the best shipping service route, best suited to your budget and requirements.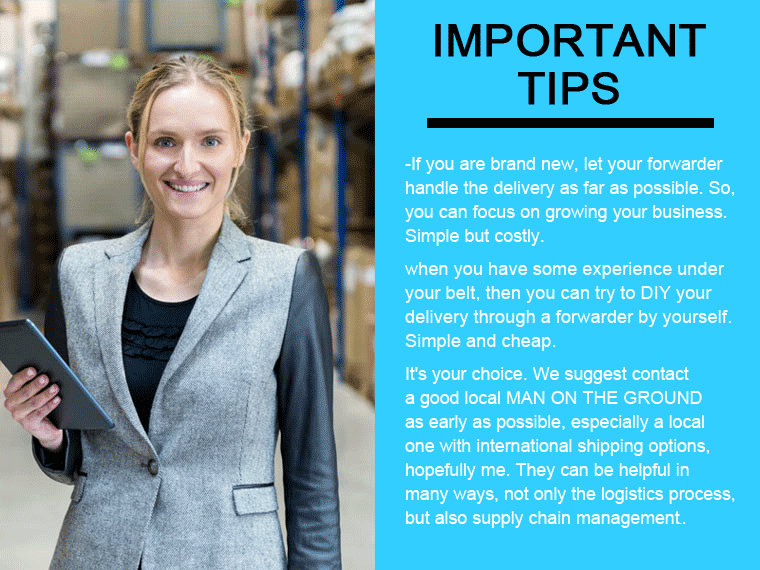 • Save time and money.
• We handle all work for you.
• Get better price.
• Reliable and professional service.
• Making sure your products reach Amazon warehouse.
• Full transparency: you're in control of all our actions.
• Full transparency: No hidden charges, no kickbacks.
---